Italfarmaco Group: The reason why we are experts in Women's Health
Pregnancy, breastfeeding and menopause care products
Italfarmaco is synonymous with a Pharmaceutical company that specialises in Women's Health. We are backed by a wide range of products, as well as numerous research and development projects. Below we will take a look at our main brands, which have been designed to improve women's health across all life stages.
Mother & Child Care
---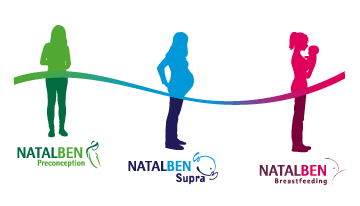 Our main goal:

the optimal development of children
Our Natalben product range has been designed to improve women's health from the moment they plan to get pregnant. In doing so, the health of both the mother and the developing baby is taken care of. How? The unborn baby benefits from the nutrients taken by the mother through vitamin supplements. The aim is to contribute to the optimal development of the child by improving the health of the mother.
Natalben: healthy mother, healthy baby
---
In 2006, Italfarmaco launched the Natalben product range, a real milestone. Since then, many other products have joined this range of food supplements, which have been designed to take care of mother and child even before the baby is conceived: 
Natalben

Preconception

:

It prepares the mother-to-be's body for pregnancy through a daily intake of folic acid, vitamin B12, vitamin D, iodine and zinc, a mineral that aids fertility

. 

Natalben Supra:

It contains the vitamins and minerals (folic acid, vitamin B12, vitamin D, iodine, iron and omega3, among other nutrients) that pregnant women need for the healthy development of the foetus

.

Natalben Twin:

Twin pregnancies require a greater nutrient intake. This is why Italfarmaco has developed this food supplement, which helps cover the nutritional needs of women during a multiple pregnancy.

Natalben

Breastfeeding

:

During the postpartum period, we keep taking care of breastfeeding mothers. The nutritional needs of breastfeeding mothers are higher than those of other women. That's why, among the essential components of Natalben Lactancia you will find: folates, vitamin B12, iodine, iron, taurine and omega 3 DHA and EPA

.